Introduction & General Background
Cuetzalan is a small, picturesque market town, in the north of the Mexican state of Puebla. The town is situated on a limestone hillside, beneath which lie many kilometres of cave passage. Collectively described as the Cuetzalan system, it was described in the late 1970's as "One of the finest and most going cave systems in the world".
The area was first visited in the mid 1970's, when American,British and later Belgian cavers began exploration of the many stream sinks around the town. Between 1976 and 1980, over 35km of cave passage had been explored and surveyed. However, exploration in the area was abandoned, probably due to the fragmentation of survey data between the various groups. It was not until 1988 that interest in the area was rekindled when a small team from the British Northern Cave Club and Mexican cavers visited the area. The potential of the region was confirmed and over the following years numerous British expeditions have visited the area. The original discoveries of the 1970's have been resurveyed and the original system has been extended considerably. To date over 100km of cave passage has been explored and surveyed and each expedition returns with more leads for future exploration
---

Location, Approach & Access

Cuetzalan is located 183 kilometres north of Puebla City on longitude 97° 31' 17" West, latitude 20° 01' 00" North and at an approximate altitude of 980m.

Regular bus services run to and from Puebla, travelling via federal highway 129 to Zaragoza, and from there via reasonably well surfaced roads to Cuetzalan town. A regular daily bus service also runs to and from Mexico City, 320km to the south-east.



Roads in the locality range from a few metalled roads connecting the major towns to mud and stone tracks connecting the larger villages. Some of the smaller villages and settlements can only be reached by foot, these tracks are well trodden by locals and are in a reasonable state of repair, many of the stone clad paths dating to pre-hispanic times. In dry weather walking can be comfortable but in the wet can be somewhat of a chore.
Transport in the area is basic to say the least. Trucks & minibuses, many of which should have been consigned to the scrapyard long ago, traverse the roads and tracks and 'collectivo' services run between the various villages. On most of the major routes these run every few hours and cost only a few pesos.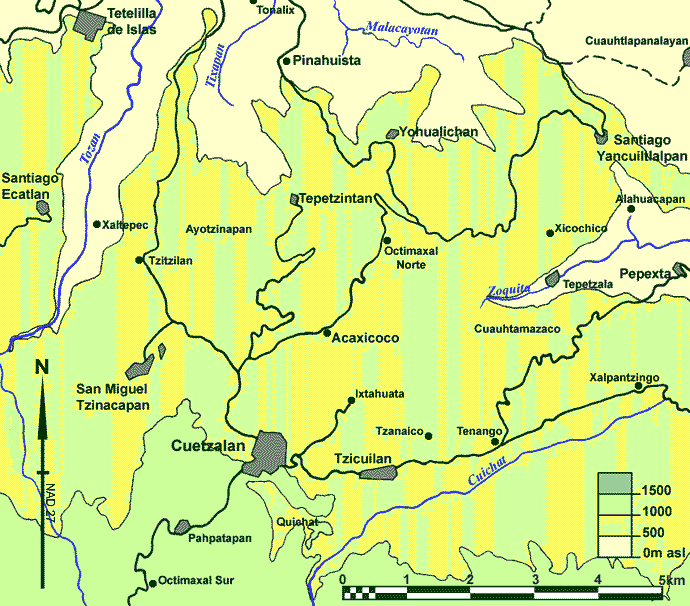 Although many of the major cave entrances are close to well worn tracks, other entrances are to be found in the middle of maize fields and coffee plantations and care needs to be taken when crossing these in order not to damage crops and upset the locals. Care also needs to be exercised used when using machetes as what may appear to be general vegetation could in fact be a local resource. In general, no problems with access have been experienced when visiting the cave entrances, although in certain areas (such as near the village of Tepetzala and the region around Cueva D'Alpazat) access can at times be a sensitive issue. The best approach when prospecting is to mention that you are searching for 'cuevas', and you will often find yourself on a guided tour of every hole in the locality, usually accompanied by hordes of children or field workers.
---
Maps
The best topographical maps of the area are published by the Instituto Nacional De Estadistica Geografia E Informica and are available on scales of 1:50,000.
Most of the area incorporating the caves systems of Cuetzalan is covered by sheet F14D85 Cuetzalan, the remainder overlaps onto sheet E14B15 Tezuitlan.
No detailed geological map of the area that would be of use to cave explorers appears to have been published.
---
Vegetation and Wildlife
The principal economic crop of the region is coffee, and most of the best land is turned over for its production. Land not used for the production of coffee is mainly used for the cultivation of maize, the main constituent of the local diet. Yields are typically poor, up to 60% of the maize planted is destroyed or rendered unfit due to the weather and crop infestation. A wide range of other produce is cultivated including potatoes, peppers and fruit such as bananas and oranges, and a wide selection of these items can be found in the market in Cuetzalan. There are also small areas of open pasture upon which emaciated cattle and a few horses graze. Free range turkeys and mongrel dogs are everywhere.
In abandoned and uncultivated areas, the vegetation is typically secondary/replacement jungle, and on the steeper slopes vegetation is extremely dense making cave hunting difficult. Particular hazards are trees with a sharp thorns growing out of the bark (popularly referred to by British cavers as 'bastard trees') and 'electric stingers', an innocuous plant with a very vicious sting which can pierce clothing and even, as is the case with the more mature plants, canvas boots.
There are a number of species of snake and lizard in the area, venomous and non venomous. Examples of some of these can be seen along with the nastier insects, preserved in jars in the pharmacy in Cuetzalan, presumably to aid identification when deciding on the best course of treatment following a bite or sting.
Biting insects are also abundant. These include mosquitoes, although to the knowledge of the authors there have been no cases of malaria reported in the area. 'Grass flies' are the cause of irritating bites particularly around the ankles and lower calf if these are left unprotected when out walking (the local practice of administering a mixture of alcohol and tobacco is a highly effective repellant and relief rolled into one). Some hotel bedding is subject to infestation by biting insects and this, along with other insect bites, may be the source of fevers that have been experienced by some expedition members.
A common sight in and around cave entrances are Amblypygi (tail-less whip scorpions) along with numerous species of spider, including Tarantula and Black Widow (the location of these is not merely confined to cave entrances). Whip tailed scorpions and giant centipedes have also been seen. 'Crayfish' and other crustaceans have been observed living in pools in some of the caves, sometimes in very remote positions, presumably deposited there by floods.
---
---